Mr. Pink's Porn Reviews - MrPinks.com
Online for over 10 years, Mr. Pink's Porn Reviews is your trusted porn review site for honest adult site reviews, discount porn, and the best porn sites!!! "The adult review site that gives you all the answers you seek, fap-fan!"
&nbsp
Site Spotlight at Mr. Pink's Porn Reviews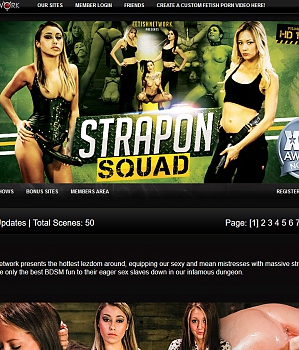 82%
Strapon Squad
In BDSM porn it's usually a man who pulls his hand back for a blistering slap of the ass that leaves his partner red, raw, and begging for mercy. Trust Fetish Network to fuck with convention, though, and unleash its boldest site yet: Strapon Squad. Handing the dicks over to the foxiest young bitches in porn today, Strapon Squad gives women the chance to be dominated, devastated, and utterly destroyed by, well, each other! If that doesn't make for the raunchiest, most daring take on lesbian sex yet seen in porn, I don't know what does!
Price: $19.95/Month