Welcome to Mr. Pink's
Porn Reviews!!!
Online for over 8 years, Mr. Pink's Porn Reviews is your trusted porn review site for honest adult site reviews, discount porn, and the best porn sites!!! "The adult review site that gives you all the answers you seek, fap-fan!"
The Week in Review
Another week fades into memory while another loaded with potential approaches. I, Mr. Pink, spent this week waist-deep in the most sordid smut the Internet has to offer and I did it all for you, friends! I examined Glamour Flower's lingerie-clad models, the freaky fetishists of Latex Angel, observed the mating habits of lesbians at Sapphic Erotica, and tried to figure out what made Glam and Glossy XXXtra that little bit xxxtra special. I also reviewed Evil Angel and had a damn good time doing it, so be sure to check out the best and worst of what Pinky saw this week and keep coming back for more porno education and advice, only at Mr. Pink's!
New porn reviews
InFocus Girls

Price: $19.95/Month

InFocus Girls takes you deep into the private bedrooms, bathrooms, living rooms, and kitchenettes of the current generation of scorching hot European models. Showcasing not only their ability to wear flattering clothing, but also their ability to look fifty times hotter out of it and their obvious fondness for masturbation, InFocus Girls comes from the makers of Sapphic Erotica and Only Cuties, but arguably keeps things simpler with its solo-girl HD movies and pics. InFocus Girls won't revolutionize porn or your view of it, but it will get the, uh, "job" done.

Only Cuties

Price: $19.95/Month

We all have our preferences, our particular tastes and interests, and if you're already checking out this review, there's a good chance your interests are trained firmly on the cutest nubiles in online porn. Only Cuties, a hardcore adult site from the makers of Sapphic Erotica and InFocus Girls, gives you daily additions to its HD video and high-res photo archive, each on hosting a gorgeous young lady on the cusp of a career in adult entertainment. She's new here - well, most of them are - and not likely to get any cuter, so… you know what to do.

79%

Glam and Glossy

Price: $9.99/1 Week $20.95/Month

The flagship site of XXXtra Co., Glam and Glossy presents British and European models in nude and near-nude galleries that threaten to defy softcore classification. Ranging from bedroom seductions to beachfront romps complete with sandy breasts and wave-lapped buttocks, Glam and Glossy is a fun and picturesque erotic wonderland. It is also, however, plagued by a few recurring issues. Do they bring the site down entirely or does Glam and Glossy rise above in the name of erotic entertainment!
Site Spotlight at Mr. Pink's Porn Reviews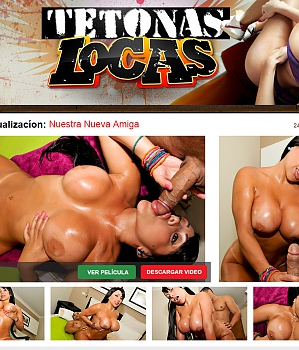 Tetonas Locas
Latinas might be more well known for their tightly-packed asses and unquenchable sexual thirst, but they're no slouches in the breast department either. Tetonas Locas (Crazy Tits) grabs the most boobtastic chicas from Brazil, Mexico, and wherever else they hail from, shooting them in energetic boob-focused hardcore scenes that'll have you standing at attention immediately. Without continuing updates, however, Tetonas Locas runs the very real risk of dying a slow, painful death. Beware, boob-men!
Tetonas Locas Review
Score: 71% | Price: $1/2 Days-Limited $29.95/Month