Welcome to Mr. Pink's
Porn Reviews!!!
Online for over 9 years, Mr. Pink's Porn Reviews is your trusted porn review site for honest adult site reviews, discount porn, and the best porn sites!!! "The adult review site that gives you all the answers you seek, fap-fan!"
The Week in Review
Spring has finally spread across even more of the country and we're all welcoming the sunshine and skimpy outfits the season brings. At Mr. Pink's, though, it's all-porn all-the-damn-time with brand new porn reviews of Asian, BBW, GILF, glamour and gay sites! Chubby Loving and Old Spunkers disappointed but both Tuk Tuk Patrol and Asian Sex Diary offered thrilling international sights. The rest of this week's slate ranged from the gentle (Babes, Domingo View) to the messy (Euro Babe Facials, Gay DVD Empire). And something tells me next week is going to be similarly… juicy.
New porn reviews
91%

In The Crack

Price: $34.95/Month

Plumbers have them but we'd rather not notice. Sidewalks have them but we often step around them. Those belonging to porn's sexiest women, though, they're well worth paying strict attention to. If you haven't deduced it already, I'm talking about cracks, specifically those seen in amazingly detailed detail at "explicit close-up niche" site, In The Crack. Nearing its tenth anniversary, In The Crack has never looked better and never hosted more incredible orifices and the women that self-love them. It's not a perfect site - and, damn, it's kinda pricey! - but, should you indulge, In The Crack won't let you down.

71%

Foot Dom Videos

Price: $39.95/Month

Fetish Network is home to a handful of foot fetish websites, but none are quite as aggressive about those much-adored lower limbs as Foot Dom Videos. Home to a small but growing collection of exclusive HD trampling, stomping, and footjob scenes, this latest endeavor from the makers of Footjob Addict and Amateur Trampling brings you heavy-footed dames who don't put up with back-talk from wise-asses, lesbian pairs licking and sucking each other's feet, and guys who know exactly how to keep a woman under their sole control (pun intended, I'm afraid.) Foot Dom Videos is fun and strange and sexy, sure, but it's not quite ready for you.

74%

Asian Sex Diary

Price: $29.95/Month

Taking a trip to Asia is a great reason to keep a diary, but, really, no one cares about what you ate, how crowded Beijing's subway is, or how beautiful Thailand's buddhist temples and shrines are - they just wanna know about your sex life! Asian Sex Diary offers a near-perfect example of how one Western man with a bit of cash and a decent camera can not only bang sexy Asian women in most every country in the continent, but write in captivating detail about his adventures and share photos and videos of his conquests in all their carnal glory to his own roaring success. Jealous?
Site Spotlight at Mr. Pink's Porn Reviews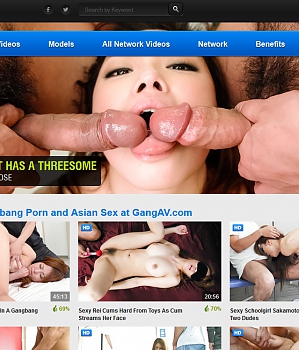 Gang AV
Grabbing a few friends and heading out for some brewskis at the local sports bar is fine if you're into light social engagements, but those truly outgoing and adventurous souls might require something a little extra. Gang AV shows how the more gregarious Japanese get their social kicks and it's an entirely hardcore affair. Hosting over 300 exclusive threesomes, gangbang, and orgy scenes rife with face-pasting bukakke cumshots, exploratory anal digging, and as many squealing, writhing women as you can handle, Gang AV makes a compelling argument for group bonding.
Gang AV Review
Score: 81% | Price: $1/3 Days-Limited $19.95/Month