Mr. Pink's Porn Reviews - MrPinks.com
Online for over 9 years, Mr. Pink's Porn Reviews is your trusted porn review site for honest adult site reviews, discount porn, and the best porn sites!!! "The adult review site that gives you all the answers you seek, fap-fan!"
The Week in Review
"One of these things is not like the other," went the Sesame Street song many of us grew up with, and this week at Mr. Pink's, that rule was firmly in play. In brand-new porn reviews assessing the value of five enticing sites, I discovered that Lust HD, the only active Euro site on Team Skeet, has only one similarity to Teen Pies, She's New and the Team Skeet network as a whole: quality! Another oddity, All Over 30, was the sole mature site under review this week and fared quite well - for an old bird! Enjoy your labor day weekend, folks, and be sure to pop back into Mr. Pink's next week for another slate of porno analysis and assessment from yours truly! (Assuming I've recovered from a celebratory bender, that is.)
Site Spotlight at Mr. Pink's Porn Reviews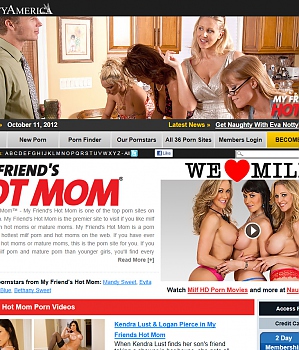 My Friend's Hot Mom
My Friend's Hot Mom is a fucking knockout! He rushed out for something. I stuck around on the sofa. His mom came home and - BOOM - she jumped me. I pounded her. We cleaned up (and it was quite a mess) just in time for my buddy to come home and find us sitting in the kitchen innocently chatting over a coffee. (I provided the cream, natch!) It was a fantasy come true if ever there was one and it has all been documented in glorious High Definition at Naughty America site My Friend's Hot Mom, where friendship is only a means to land the most experienced pussy you'll ever have.
My Friend's Hot Mom Review
Score: 86% | Price: $1.95/3 Days-Limited $17.76/Month