Mr. Pink's Porn Reviews - MrPinks.com
Online for over 9 years, Mr. Pink's Porn Reviews is your trusted porn review site for honest adult site reviews, discount porn, and the best porn sites!!! "The adult review site that gives you all the answers you seek, fap-fan!"
The Week in Review
March has arrived and spring is around the corner. And, as the seasons change, Mr. Pink's porn reviews stays basically the same and dishes up four brand new adult website reviews for you to wrap your sex-rattled head around. Sister-sites FemJoy and JoyMii proved themselves an all-female and all-hetero experience par excellence by blending Euro styling with both Euro and US stars for powerfully erotic results. Another masturbation heavy site, Yanks, eschewed pornstars in favor of every gals - and the effect is awesome! Babes, on the other hand, proved once again that heavy makeup, expensive lingerie, and incredible photography are just icing on the cake of the pornstar filling your waking (and wanking) dreams. Come back next week for more porn reviews from your faithful adult entertainment assessor, Mr. Pink!
Site Spotlight at Mr. Pink's Porn Reviews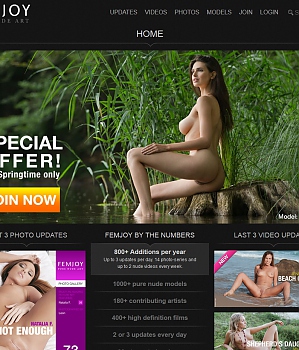 FemJoy
Women are undoubtedly one of the most consistent sources of joy in the lives of those that admire them, so it's only natural there should be an adult erotica site entitled FemJoy. Home to a large and daiiy-updated collection of naturalistic outdoor shoots and more intimate indoor encounters, FemJoy is a fantastic celebration of all that makes women (in this case, specifically young Central and Eastern European women) bring such joy to our lives and libidos.
FemJoy Review
Score: 94% | Price: $19.95/Month