Welcome to Mr. Pink's
Porn Reviews!!!
Online for over 8 years, Mr. Pink's Porn Reviews is your trusted porn review site for honest adult site reviews, discount porn, and the best porn sites!!! "The adult review site that gives you all the answers you seek, fap-fan!"
The Week in Review
Another week fades into memory while another loaded with potential approaches. I, Mr. Pink, spent this week waist-deep in the most sordid smut the Internet has to offer and I did it all for you, friends! I examined Glamour Flower's lingerie-clad models, the freaky fetishists of Latex Angel, observed the mating habits of lesbians at Sapphic Erotica, and tried to figure out what made Glam and Glossy XXXtra that little bit xxxtra special. I also reviewed Evil Angel and had a damn good time doing it, so be sure to check out the best and worst of what Pinky saw this week and keep coming back for more porno education and advice, only at Mr. Pink's!
New porn reviews
79%

Glam and Glossy

Price: $9.99/1 Week $20.95/Month

The flagship site of XXXtra Co., Glam and Glossy presents British and European models in nude and near-nude galleries that threaten to defy softcore classification. Ranging from bedroom seductions to beachfront romps complete with sandy breasts and wave-lapped buttocks, Glam and Glossy is a fun and picturesque erotic wonderland. It is also, however, plagued by a few recurring issues. Do they bring the site down entirely or does Glam and Glossy rise above in the name of erotic entertainment!

71%

Page 3 Classics

Price: $9.99/1 Week $20.95/Month

Back in the late-60s, Rupert Murdoch was just hitting his stride as one of the world's most powerful media tycoons when he bought British newspaper The Sun. Relaunching it as tabloid and throwing a barely-clothed model on the third page. Editor Larry Lamb celebrated The Sun's first anniversary with a page three girl in her birthday suit. A classic of British erotica was born that day and Page 3 Classics continues this work to this day with an online archive of the best and boldest sexy, topless, and nude models of our recently published past that's as titillating as it was when first seen in black-and-white all those years ago.

80%

Housewife Kelly

Price: $24.95/Month

These days it seems every housewife with a dildo wants to make money shooting porn. We should be endlessly thankful that most housewives don't bother clogging up our already busy porn-viewing schedules with dull, lifeless rutting, and that we can count Housewife Kelly among the good ones. On her Housewife Kelly website that she runs with her husband, Shawn, this curvaceous green-eyed gives her fans incredible photos and videos that prove what a wanton superslut she really is.
Site Spotlight at Mr. Pink's Porn Reviews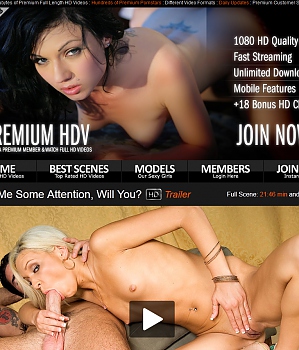 Premium HDV
You know how we know we're living in the 21st Century? Everything viewable (TV, movies, books, porn et. al.) is not only presented digitally, but in High Definition, too. And until home viewing hits 4K resolution, 1080p HD is as good as it's gonna get, which is why Premium HDV can set its membership cost at $39.95 a month and still expect lots of sign-ups. The top-tier pornstars featured on this non-exclusive site are showcased in 540p, 720p, and 1080p videos that feel so real - well, as real as most porn can get - you'll be gasping for breath along with the incredibly lucky stuntcocks and they tear that pussy up in glorious High Definition.
Premium HDV Review
Score: 85% | Price: $2.95/2 Days $29.95/Month