Welcome to Mr. Pink's
Porn Reviews!!!
Online for over 8 years, Mr. Pink's Porn Reviews is your trusted porn review site for honest adult site reviews, discount porn, and the best porn sites!!! "The adult review site that gives you all the answers you seek, fap-fan!"
The Week in Review
It's Thanksgiving, bitches! With the holiday season now well and truly upon us, it's time to throw off conventional wisdom and get loopy! And now you can do so secure in the knowledge that your chosen virtual fap-house meets the high standards of Mr. Pink's Porn Reviews! This week we examined two live cam sites, Supermen and Shemales, and the videoless softcore cosplay wonderland My Geek Goddess. Next week will see brand spankin' new porn reviews of some of Reality Kings' best sites, so stay tuned and, if I may offer some holiday advice… Don't get trampled while shopping. Don't trample anyone while shopping. And, as always, stay horny, my friends.
New porn reviews
Monster Curves

Price: $2/1 Day-Limited $17.95/Month

We men are programmed to reproduce. While having an notably detrimental effect on our social lives and financial statuses, this primal driving force does lead us to plenty of thrilling sexual encounters, but it all depends on the right woman. If you trust this primal drive and Reality Kings both, you'll want to check out the incredibly voluptuous babes of Monster Curves. They show off their ample figures before getting down to some energetic humping, all in an effort to prove their sexual superiority. Natural selection, take note.

Plenty of Dicks

Price: $2/1 Day $17.95/Month

One dick can be satisfying, yes, and two can be even more fulfilling, but what happens when the dicks you've had available to you simply stop being enough? Plenty of Dicks is a four-site network with an almost unlimited supply of hard-ons, boners, stiffies, and chubs and the will to use each and every one in aid of your vicarious sexual satisfaction. TL;DR: Plenty of Dicks has, well, plenty of dicks.

Black GFs

Price: $17.95/Month

Those of you who've kept your physical loving within your own racial community are really missing out on a world of pussy that's to hot to ignore. Take the African American girls of Black GFs, for example. With thick thighs, phat asses, and curvy, athletic bodies, they're beasts in the sack and show little hesitation in shooting homemade porno as hardcore as anything the ass-fucking mainstream deals in. Just like navigating your first interracial relationship, Black GFs isn't entirely smooth sailing, though, so why not take some free advice from your pal Pink?
Site Spotlight at Mr. Pink's Porn Reviews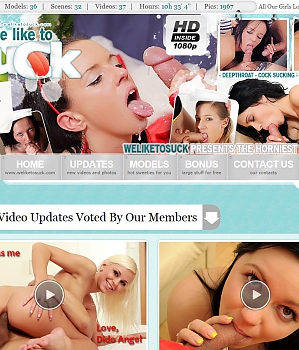 We Like to Suck
No matter how many times I've requested a marathon blowjob session - either one long suck or a continual series - from however many girls I've gathered enough courage to ask, I've never been granted my wish. As much as they may seem to enjoy sucking dick, those girls can't even possibly compete with the likes of Caprice, Petty, Nicoletta, and Bella, the eager, open-mouthed European beauties of the more than appropriately titled website, We Like to Suck. Dropping to their knees at a moment's notice with nothing on their minds but enjoying the dick, these girls are a blowjob lovers treat!
We Like to Suck Review
Score: 87% | Price: $19.95/Month